Our goal at Buffbabies is quality cats and kittens, not quantity. Our kittens are not a commodity but a special, individual pet to be loved and nurtured.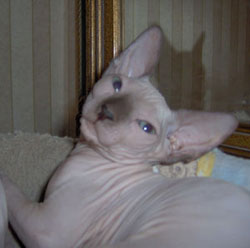 Kittens are adopted on a first-come, first-served basis. A non-refundable deposit is required to hold the kitten of your choice. You may also place your name on our waiting list for that special baby.
All kittens are spayed/neutered before they leave for their new home. If this is not age appropriate a neuter/spay contract is available. We do require a contract concerning declawing, FIP/FeLV vaccines and other Sphynx issues. A health certificate and health guarantee come with each kitten. I have written a short booklet on Sphynx care that is available to each new owner.
All Buffbabies Sphynx are TICA and CFA registered